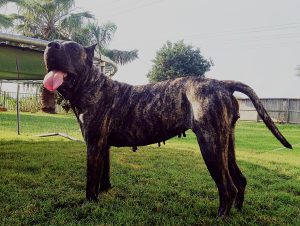 Birth place: Los Cardones Kennels, Candelaria, Island of Tenerife, Spain.
Breeder:  Ricardo Celso Oramas Miranda
Imported into the United States 2010.
Passport: Unión Europea España 05 0017815.
Microchip: 985121012327380
Libro de Origenes: LOE 1948800
FCPR # W12.548
Registered: Real Sociedad Canina de Espana
Registered: Federation Cynologique Internationale (FCI)
Registered: Federacion Canofila de Puerto Rico (FCPR)
Temperament:
Riana is an incredible female dog.  Born in 2010, she is one of the most athletic and agile dogs we have ever seen in the breed.  Her jumping ability is incredible!  Even as a small puppy, she displayed the ability to leap several times her own height.  She is extremely fast!  One person who brought his dog over to play was shocked to see Riana run from behind while his dog was in full flight and completely run her over!  He said that normally, at the dog parks, it is HIS dog that makes all the other dogs look slow with her excessive speed!
Riana has true Dogo Canario breed expression.  This means that looking at her, she looks like she should.  She was confirmed as a young dog by 2 Spanish judges.  She has a great head, a great mask (something seriously lacking throughout the World), and a full set of teeth (Almost unheard of in the United States).  She has incredible front and rear angulation and, in pose, looks like a work-of-art!
Riana's drive is almost excessive.  At Las Islas de Doramas, we do not train for biting or attacking, since we have 7 kids and a parade of strange kids and adults going through our house at all times (We have had more than 80 here at once!).  However a knowledgeable person doesn't need to see such things to measure drive.  Riana loves the water and will jump and bite at it, literally for hours!!  We have been shocked to see our kids spraying water from the hose while jumping on the trampoline.  One hour later, Riana was still jumping in the unbearable Houston heat to get at that water!
Riana is loose in our home almost all the time.  She is incredibly loving and great with all children and adults.  She does, however, put on a formidable display when someone strange comes to the door when we are not around.  Her intense look alone would scare off anyone.
History:
Riana was born in Candelaria de Tenerife in the Canary Islands.  These Spanish Islands are the origin of the breed.  She was carefully bred by the President of the Dogo Canario Club of Spain.  Her mother, Gabana de los Cardones, is, in some people's opinion, the absolute best female Dogo Canario in the World!  This fame comes not just from breed fans, but also from breed specialist and international judges.  The largest and most competitive show in the world is the Spanish Monografica in the Canary Islands.  It is regarded as the World Championship of the breed.  Gabana entered this show as a puppy and was named the best female puppy and won the title of Best All-Around Puppy!  Additionally, Gabana won as the best adult female in the International Show in Santa Cruz de Tenerife.  Gabana had only one litter of puppies and in her second litter, got an infection which required removal of her uterus.  The great thing is she had several puppies to carry on her fantastic genetic qualities.  Las Islas de Doramas has the majority of this litter!
Riana'sfather was the great Tequila de Tierra de Volcanes.  Tequila's father is Ch. E Serach de Garehagua – a Spanish Champion, Monographica winner, and one of the top producing dogs of champions in history.  This dog's litter-mate just won the best female at the 2012 Spanish Monografica!  This basically means she is the number one female in the World for 2012!  Tequila also entered the Spanish Monografica as a puppy and was chosen as the best male puppy!  When Las Islas de Doramas went to the Canary Islands and visited with almost 2 dozen breeders and kennels there, one dog stood out –Tequila de Tierra de Volcanes!  We said we were looking for a wide and strong dog to make up for the serious lack of such in the United States.  When we saw Tequila, the breeders there jokingly said, "Is this dog strong enough for you?!?"  Then they laughed.  All we could do was look in amazement!  Tequila's chest was 2 stretched, hand-spans wide!  That is over 18 inches straight across!  We likewise measured many dogs and the only one that came close was Noe de Crisdoco. Tequila looked like the superhero of dogs!  Unfortunately, Tequila died of a stomach torsion (Often caused by improper feeding) and has very few off-spring.  Las Islas de Doramas took a video of this great dog.  Let me know and I can send you this video.  You have got to see it to believe it!
Size:
Riana will probably max out at 110 lbs. – the maximum weight for a female of the breed.
Pictures of Riana: